Look for the BSD 100 MPH Club decals denoting a licensed, inspected, muffled, and DOT-tired cars, bikes and Sport Compacts that has passed the century mark at the Beaver's quarter mile! It's a neat deal for street performance enthusiasts, but how do you explain that decal to the officer that pulls you over for speeding...?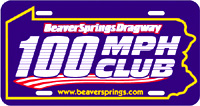 Licensed, Inspected, DOT Street Tires,
and through the mufflers.
Think you're BAD? Prove it!


= 150+ MPH


= 100+ MPH (1/8th mile)


2013 Standings
As of 11-3-2013
100 MPH Car Club


2012 President - Tom Brady - `86 Cutlass 155.47 MPH
| | | | |
| --- | --- | --- | --- |
| POS. | Name | Vehicle/Engine | MPH |
| 1 | Wally Null | 68 Chevelle 540 | 155.30 |
| 2 | Tom Brady | 86 Cutlass 406 sbc | 154.88 |
| 3 | Ed Brady | 67 Camaro 421 | 154.53 |
| 4 | Craig Poust | 71 240Z 4.8 sbc | 153.20 |
| 5 | Barry Aurand | 70 Duster 408 | 152.80 |
| 6 | Vincent Ventuso | 93 Supra 2.6 | 151.51 |
| 7 | Bud Buck | 68 Chevelle 498 | 150.67 |
| 8 | Brian Acri | 03 Cobra 4.6 | 143.67 |
| 9 | Braidon Neese | 88 Mustang 408 | 143.12 |
| 10 | Joshua Oswalt | 91 Mustang 408 | 142.51 |
| 11 | William Freeburn | 10 Nissan GTR | 141.95 |
| 12 | Brett Bodwalk | 80 Camaro 406 | 140.69 |
| 13 | Bryan Parsons | 87 Mustang 363 | 140.31 |
| 14 | Greg Hack | 86 Mustang 347 | 137.24 |
| 15 | Derek Robinson | 98 Civic 2.0 | 137.17 |
| 16 | Lee Johnston | 01 Audi S4 2.7 | 136.69 |
| 17 | Bill Robinson | 88 CRX 2.0 | 135.64 |
| 18 | Will Neogra | 95 Mustang 347 | 134.85 |
| 19 | Kirk Steinbacher | 68 Firebird 421 sbc | 132.00 |
| 20 | Bob Reeder | 75 Nova 433 | 128.07 |
| 21 | Michael Johnson | 92 Civic 1.6 | 127.47 |
| 22 | Daniel Loncher | 91 Eclipse 2.0 | 124.41 |
| 23 | Bill Dippery | 13 Shelby 5.8 | 123.28 |
| 24 | George Wilbert | 94 Camaro 383 | 121.50 |
| 25 | Kevin Hill | 10 Camaro 6.2 | 121.01 |
| 26 | Kyle Poorman | 88 Mustang 410 | 120.49 |
| 27 | Adam Meyer | 72 Chevelle 454 | 120.41 |
| 28 | Caleb Bradley | 98 Integra 2.0 | 119.96 |
| 29 | Kenneth Ranalli | 11 Mustang 5.0 | 119.76 |
| 30 | Barry Ehrhart | 66 Chevelle 496 | 118.71 |
| 31 | Dan Jordan | 71 GTX 497 | 118.34 |
| 32 | Charlie Klauger | 78 Regal 455 | 117.72 |
| 33 | James Bilger | 85 Monte 355 | 117.35 |
| 34 | Paul Brantner | 92 Chevy S-10 406 | 117.18 |
| 35 | Shawn Hill | 02 Camaro 400 | 115.35 |
| 36 | Barret Nitchman | 99 Trans Am 350 | 115.23 |
| 37 | Paul Smarsh | 90 T-Bird SC 3.8 | 114.81 |
| 38 | Ed Findley | 68 Camaro 489 | 114.12 |
| 39 | Andree Walters | 09 BMW 135i | 113.25 |
| 40 | William Merrell | 87 Buick GNX 3.8 | 112.98 |
| 41 | Ken Buckwalter | 12 Mustang 5.0 | 112.71 |
| 42 | Todd Campbell | 85 Chevy C-10 350 | 112.12 |
| 43 | Bob Schaeffer | 07 Mustang V-6 | 112.06 |
| 44 | Bob McCardle | 13 Mustang 5.0 | 111.64 |
| 45 | Mike Pesarchick | 76 Century 455 | 111.49 |
| 46 | Mike Jones | 92 Mustang 302 | 111.41 |
| 47 | Mike Wachter | 00 Trans AM 5.7 | 110.38 |
| 48 | Tim Price | 69 Nova 383 | 110.30 |
| 49 | Joe Barr | 10 Camaro 6.2 | 110.07 |
| 50 | Shawn Lattieri | 99 Trans Am 5.7 | 109.80 |
| 51 | Daniel Domonkos | 14 Mustang 5.0 | 109.74 |
| 52 | Bill Merrell | 87 Buick GN 3.8 | 109.48 |
| 53 | Josh Royer | 95 Del Sol 1.8 | 108.56 |
| 54 | Trent Muthler | 10 Camaro 6.2 | 107.56 |
| 55 | Richard Smith | 10 Camaro 6.2 | 107.46 |
| 56 | Shane Elliott | 85 RX-7 302 sbf | 107.33 |
| 57 | Alan LaMotia | 10 Challenger 5.7 | 107.16 |
| 58 | Ron Lewis | 91 Mustang 5.0 | 107.15 |
| 59 | Jonathan Piper | 10 Challenger 5.7 | 107.04 |
| 60 | Bob Witmer | 69 Camaro 383 | 105.79 |
| 61 | Russ Bohlman | 00 Camaro 5.7 | 105.55 |
| 62 | Ryan Mentzer | 06 WRX Sti | 105.27 |
| 63 | John Cleveland | 10 Challenger 5.7 | 105.20 |
| 64 | Greg McMullen | 02 Lightning 5.4 | 105.14 |
| 65 | Shawn Ruhl | 99 Regal GS 3.8 | 104.84 |
| 66 | Grant Yoder | 07 Imprenza Sti | 104.55 |
| 67 | Chris Young | 99 Camaro SS 5.7 | 104.11 |
| 68 | Tom Wilbert | 97 Camaro 350 | 104.05 |
| 69 | John Maholick | 08 Mustang 4.6 | 104.03 |
| 70 | Doug Fox | 68 Mustang 302 | 103.72 |
| 71 | Zack Caswell | 90 T-Bird SC 3.8 | 103.92 |
| 72 | Adrian Yerger | 87 Camaro 383 | 103.80 |
| 73 | Ronny Suhr | 99 Lightning 5.8 | 103.44 |
| 74 | Michael McCord | 91 Mustang 302 | 102.90 |
| 75 | Ken Newberry | 12 Jeep SRT-8 | 102.66 |
| 76 | Travis Gilmore | 06 Subaru STi | 101.87 |
| 77 | Kyle Poorman | 01 Mustang 4.6 | 101.64 |
| 78 | Wyatt Hoffman | 76 Nova 327 | 101.63 |
| 79 | Kevin Kafora | 04 GTO 5.7 | 101.53 |
| 80 | Ken Newberry | 10 Jeep SRT-8 | 101.02 |
| 81 | Earl Barry | 92 Civic 2.0 | 100.60 |
| 82 | Josh Magyar | 84 Chevy S-10 350 | 100.46 |
| 83 | Jacob Fuller | 05 Subaru WRX | 100.28 |
| 84 | Brandon Stanttenberg | 04 Mustang 4.6 | 100.26 |
| 85 | Corey Ellis | 90 CRX 2.2 | 100.24 |
100 MPH Bike Club


Chris Kocher -`10 BMW 1000 - 154.61 MPH
| | | | |
| --- | --- | --- | --- |
| POS. | Name | Vehicle/Engine | MPH |
| 1 | Lenny Yocum | 02 Busa 1300 | 152.07 |
| 2 | Brian Glunt | 12 Ninja ZX14 | 151.28 |
| 3 | Ty Glunt | 07 Ninja ZX14 | 148.73 |
| 4 | Bob Newton | 03 Busa 1300 | 148.29 |
| 5 | Dan Hoerr | 12 BMW 1000 | 147.69 |
| 6 | Brad Dick | 11 GSXR 1300 | 142.24 |
| 7 | Justin Kessler | 04 Busa 1300 | 140.47 |
| 8 | John Smida | 93 Ninja ZX1100 | 137.32 |
| 9 | Shane Tressler | 03 Triumph 955 | 136.54 |
| 10 | Brian Pfirster | 04 Yamaha ZF-600 | 124.68 |
| 11 | Milt Fuoss | 97 Suzuki TL-1000 | 123.30 |
| 12 | Brian Pfiester | 04 Suzuki GS1000 | 121.47 |
| 13 | Todd Campbell | 02 Yamaha YZF 1000 | 121.09 |
| 14 | Justin Long | 04 Yamaha R6 | 120.87 |
| 15 | Justin Long | 06 Yamaha ZF-600 | 119.76 |
| 16 | Matt Ball | 07 Honda CBR-600 | 119.03 |
| 17 | Bill Bair | 12 Triumph 665 | 118.28 |
| 18 | Heather Falls | 05 Honda 600 | 114.09 |
| | | | |
| --- | --- | --- | --- |
| POS. | Name | Vehicle/Engine | MPH |
| 1 | William Freeburn | 10 Nissan GTR | 141.95 |
| 2 | Derek Robinson | 98 Civic 2.0 | 137.17 |
| 3 | Bill Robinson | 88 CRX 2.0 | 135.64 |
| 4 | Craig Poust | 94 Civic 1.8 T | 131.59 |
| 5 | Ryan Laub | 91 CRX 2.0 T | 129.88 |
| 6 | Michael Johnson | 92 Civic 1.6 | 127.47 |
| 7 | Daniel Loncher | 91 Eclipse 2.0 | 124.41 |
| 8 | Dustin Mertiff | 90 Eclipse 2.0 | 124.39 |
| 9 | Caleb Bradley | 98 Integra 2.0 | 119.96 |
| 10 | Nate Martin | 10 Cobalt SS 2.0 | 113.22 |
| 11 | Curt Loesch | 11 BMW 135 3.0 | 109.44 |
| 12 | Josh Royer | 95 Del Sol 1.8 | 108.56 |
| 13 | Andre Walters | 07 BMW 135I 3.0 | 106.25 |
| 14 | Ryan Mentzer | 06 WRX Sti | 105.27 |
| 15 | Earl Barry | 92 Civic 2.0 | 100.60 |
| 16 | Jacob Fuller | 05 Subaru WRX | 100.28 |
| 17 | Corey Ellis | 90 CRX 2.2 | 100.24 |
| | | | |
| | | | |