"The Klockster" takes Easter Saturday's Top Beaver title.
Bob Klock took his Modified winning Challenger to a final round win in Top Beaver over Dale Rhoads Mustang by cutting a .003 to Dale's .033 and running a 11.627 on a 11.61 to Dale's run out 11.997 on a 12.01.
Steve Lenig driving Heather Gutschmidt's Moonshine sponsored dragster took the Top ET title over "Northern Raider" Tom Seward's dragster. Steve turned a 7.905 on a 7.88 (.027R/T) to stop Tom's 7.446 on a 7.43 (.101 R/T)
"The Klockster" took the Modified title over Justin Badman's Nova in a double breakout affair. Bob ran a 11.585 on a 11.65 to Justin's 10.656 on a 10.68.
The IHRA Bike title was taken by John Royer on board his Suzuki over "Da Carp". John ran a 10.499 on a 10.50 to Dave's 9.456 on a 9.47. Talk about close!!
In the battle of former Champions it was Dale Rhoads in his trusty Mustang taking the Street title over Joe "Big House' Clark's Nova. Dale carded a 12.024 on a 12.03 at 110..57 MPH to Joe's 13.243 on a 13.27.
The Hot Rod Trophy title went to Todd Stahl in his big Olds over Rick Narehood's Mustang. Todd ran a 11.468 on a 11.42 at 113.53 MPH to Rick's 11.760 on a 11.66.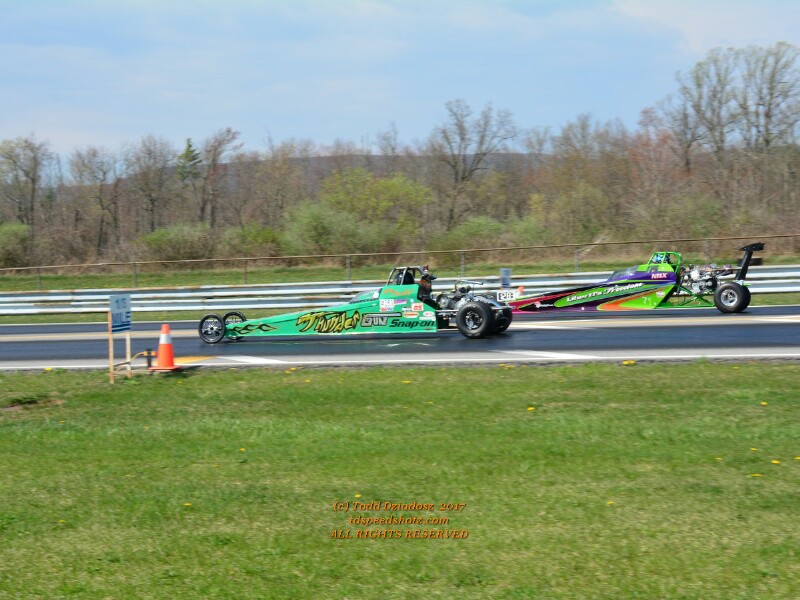 Aiden Mackert just missed being a back to back winner when he took too much strip over Liberti Ferster. Lib ran a 7.954 on a 7.90 to Aiden's 12.814 on a 12.83.
Alex Maturo is out first in the AV finals over Torque Zimmerman. Alex held on for the win with a 18.494 on a 18.50 to Torque's 16.458 on a 16.82.
The Lil Beaver finals was won by Dave Novinger in his Vega over Graham Daddy Taylor's red lighting Nova. Dave ran a 9.671 on a 9.71 to Graham's 9.394 on a 9.31 for the win.
WINNERS CIRCLE
Top ET – Steve Lenig
Modified and Top Beaver Champ – Bob Klock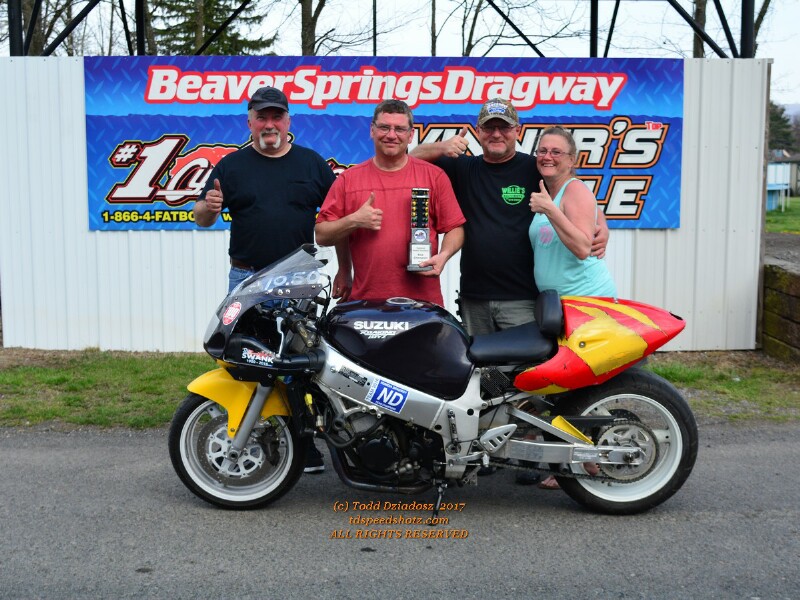 Bike Champion – John Royer
Street Champion – Dale Rhoads
KIDS EASTER EGG HUNT – A BEAVER TRADITION
Beaver Bob with "Jack Rabbit" our own 20 pound Flemish Giant Easter Bunny.
A very special thanks to Kathy for all the works she does in pulling off the annual hunt.
 Tammy is the other part of the Egg Hunt Team.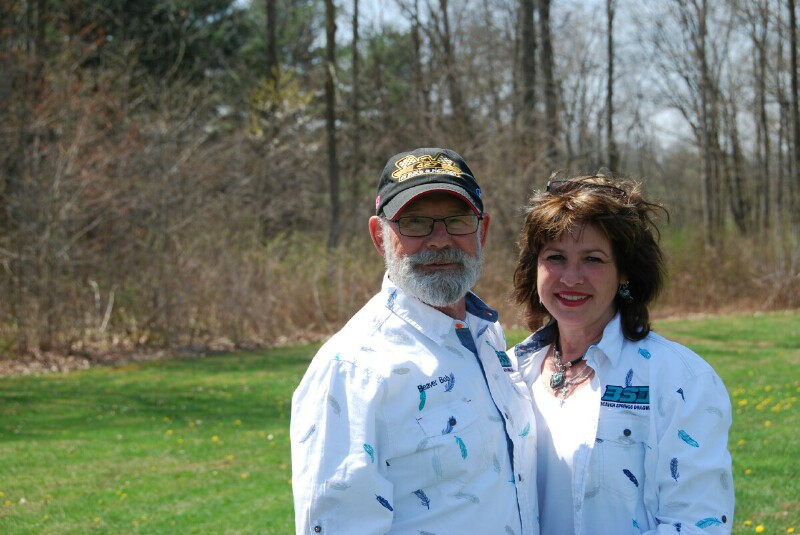 Beaver Bob and Donna Marie sure do love the kids too.
TODD'S BONUS SHOTS

John and Rita Simbeck, looking good.