STREET RACE POINTS #2 T & T #1 HOUDINI GATES OPEN 4:00PM OPEN TIMESHOTS 5:00PM Qualifying Passes at 6:30
Friday Night Classes
Gates open at 4pm
Open test and tune 5pm until 6:30pm and then between rounds
Structured time shots for Class races start at 7 and you get 1 or 2 qualifying passes based on car count
PAID test and tune will run at end of each round until the race is over, if you race you can NOT TNT unless you have a PAID test card
True Street
DOT aprroved tires ( no Slicks)
Current tags and insurance MATCHING THE CAR VIN
Must have working headlights, taillights, turn signals and horn
Must have all factory appearing glass(optic armor ok) ALL WINDOWS MUST FUNCTION.
The vehicle must have ALL body panels intact INCLUDING bumpers. Fiberglass or Carbon Fiber panels limited to Hood and bumper covers unless factory equipped.
Must maintain factory frame rails, firewall and wheel tubs
Bolt on suspension upgrades ok. Must attach at factory mounting points. Aftermarket K member ok.
Full interior including both front seats. factory dash, door panels, headliner, carpet, windows must work
Must have FUNCTIONING Charging system, Cooling System
Mufflers required, all exhaust must exit BEHIND driver.
FOLKS this class is designed for LEGITIMATE DAILY DRIVEABLE vehicles. Let's make it super fun for those that want to get out of the stands and get on the track….If you think it's quick (or even if you think it's slow) and wanna race at a safe facility on a PREPPED track..THIS IS FOR YOU!
---
Modified Street
Tires: radials or Slicks
Exhaust: Any exhaust configuration
Body: must retain factory Look, Doors must open and close from inside and outside the vehicle. *No lexan windshield or rear window allowed.
Lighting & Electronics: must have working headlights & tail lights
Chassis and suspension: vehicle must have factory frame, but can have back half with modified tubs, 4 links, ladder bar etc.
---
Outlaw Street
Tires: Any Tire
Exhaust: Any exhaust configuration
Body: any body, any car, dragster,roadster, rails, tube chassis
Chassis and suspension: anything
---
5.50 INDEX Payout based on car count. Must be Door car, any tire size, any power adders
Door cars ONLY ( Left hand steer roadsters allowed)
.400 pro tree
NO Electric or Pneumatic Throttle stops
Working taillight
1/8 mile race
---
6.50 INDEX Payout based on car count. Must be Door car, any tire size, any power adders
Door cars ONLY ( Left hand steer roadsters allowed)
.500 pro tree
NO Electric or Pneumatic Throttle stops
Working taillight
1/8 mile race
---
BIKE
Jr. Dragster
Jr. Atv
Must be 15 years of age or younger
Must wear propper safety gear ( high ancle boots, gloves, helmet, and jacket)
Adult Atv
Must be 16 years of age or older
Must wear propper safety gear ( high ancle boots, gloves, helmet, and jacket)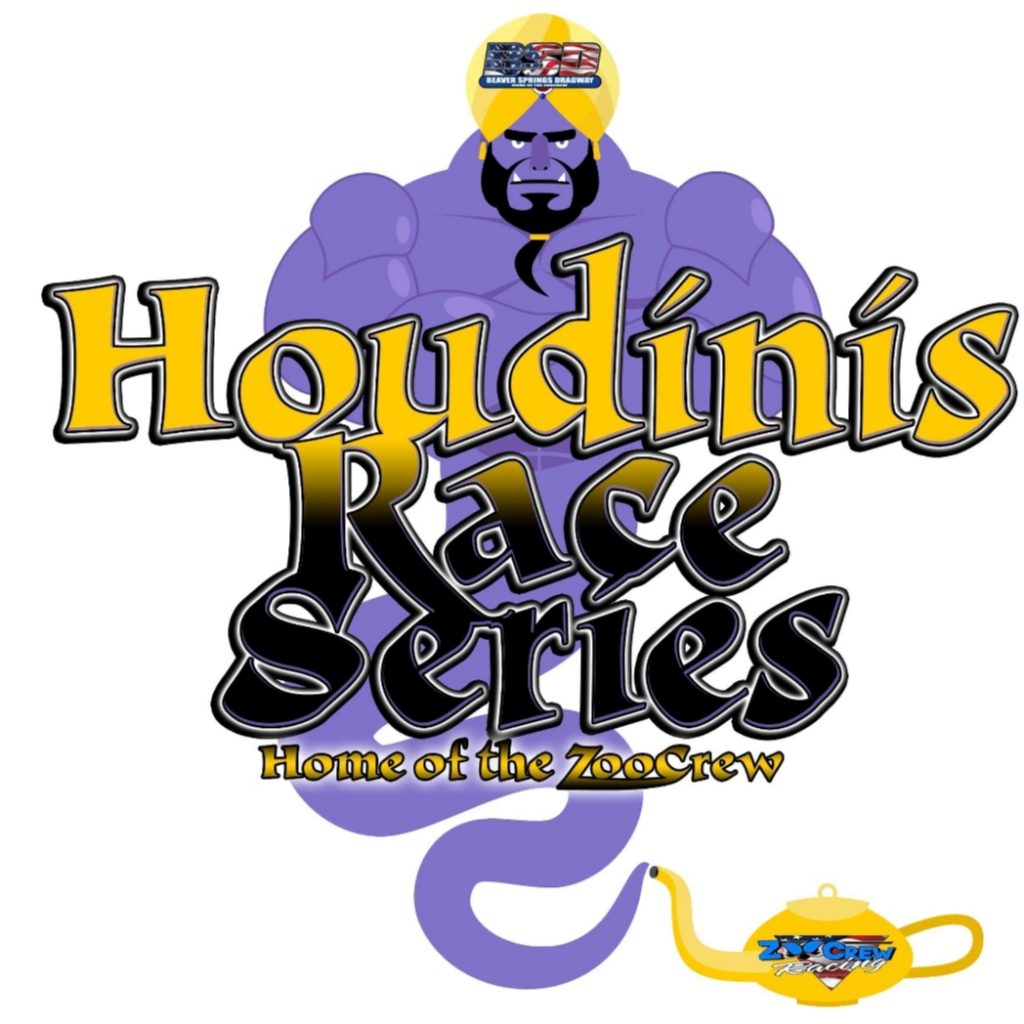 HOUDINI'S BADAZZ RACE. Here are rules to qualify too 1 Stock Appearing body 2 Steel roof and quarters… 3 Mufflers 4. Working headlites and tail lites 5. Stock appearing dash 6. Any tire 7. Glass windshield and rear window except Tks with bars thur 8 Stock rockers inner and outer. 9. No All out gutted Race Cars 10. Will qualify outta Test and Tune. 11. Will be 1/4 mile 12. 500 Pro tree 13 Must be Team Beaver Member 14. Pairings 1-5 2-6. 3-7. 4-8. 15 Can not dial slower than low qualifier
This is a Free Race for the Top Qualifiers and is sponsored by BOWERSOX AUTO BODY BUD GODEK AUTO BODY EASTERN AUTO REPAIR Racemaster for event is David Snook
Gonna be a Great Race
Pay outs $250.00 Win $150.00 R/u $50.00 semis
6pm-10pm