TRACK LOCATION
BEAVER SPRINGS
PENNSYLVANIA
17812
2 miles North
on PA 235 DIRECTIONS
PHONE
Track - Office:
570-658-9601
GPS Information
Type in:
Beaver Springs
Airport

To update or
add your Profile,
e-mail here!

IHRA SUNDAY
POINTS RACES





570-541-1372





Zoo Crew Forums
Bellwood, PA
814-742-8145


717-899-6606


800-527-3547



Dave Gramley


717-535-5409


570-742-4706






570-658-5202


JDWEB.CC
717-248-4135
Get your numbers for no charge!



717-899-6221



Graphic Design and
Full-Color Printing of
Decals and Flyers:


Maintained by
Beaver Bob


BB's '63 Galaxie 427




Updated: August 27, 2014 (Labor Day Finals this weekend)
(IHRA Points updated with waivers)
(Friday's results and points)


Latest standings: IHRA Overall Points
IHRA Series 2 Points
SBRA Points
Friday Points

Check photos: 2014 Photo Race Results
2nd Annual Ford FE Race & Reunion
July 12-13 Nostalgia Nationals
August 8 Flashback Friday


---
A Beaver Springs Tradition!
LABOR DAY FINALS!
August 29th - September 1st

Four days of Food, Fun, Family and FAST ACTION!

All IHRA champions win an Ironman Trophy
Saturday from R&S Miller Trucking

AGAIN this year:
JD Web presents a new Dell Laptop computer
to the Grand Top Beaver Champion


FRIDAY - SATURDAY - SUNDAY - MONDAY

Bob Motz - 200 MPH Jet Truck Friday Night Only
4 Big Days and a Great Show!


Pro Stick - 40 real fast Stick Cars!!


MANDRA Nostalgia Cars

$1000 Top Beaver - 200 cars in competition everyday

R&S Miller Trucking Iron Man Classic race on Saturday
IHRA Eliminator Champion in Top, Modified, Bike and Street


JD Web Grand Top Beaver's award on Monday
The 3 Top Beaver Champions run off for Dell Laptop

CAMPING AT THE BEAVER


Beaver Springs Dragway is a well run, family oriented facility. We permit overnight camping by responsible patrons. Campers are required to purchase a minimum 2 day spectator pass. If you camp overnight, there is a $20 charge for the weekend.
RULES:
No glass bottles, ATV's, Dirt Bikes, Fireworks or Music.
Alcohol is limited to responsible adult use. Campfires are permitted.
Dogs are permitted, but no aggressive breeds.
SPECTATOR CAMPING:
Spectators that arrive with camper trailers or those patrons tenting must pay spectator fees through Sunday. All campers must set up near the tree lines and not in the pit parking areas.
COST TO CAMP: $20 for the entire weekend plus spectator fee.



Camp over and family fun times

Gate Schedule and prices Saturday, Sunday and Monday each day:
9:00 Gates Open - 10:00 Time Trials - 2:00 SHOWTIME
Spectators: $15 each

LABOR DAY FINALS RACE SCHEDULE
Friday
Aug. 29
Saturday
Aug. 30
Sunday
Aug. 31
Monday
Sept. 1
EVENT

Bob Motz's
200 MPH
Jet Truck

Heads Up
165 MPH WFO

Street Racing
10 classes


Wheel standing
Pro Stick Cars

MANDRA
Nostalgia Cars

$1000 Top Beaver
Iron Man Classic

Wheel standing
Pro Stick Cars

MANDRA Nostalgia Cars

$1000 Top Beaver


$1000
Top Beaver

JD Web
Grand Beaver
Dell Laptop award

Gates open
4:00 PM
9:00 AM
9:00 AM
9:00 AM
Time Trials
5:00 - 8:00
10:00 AM
10:00 AM
10:00 AM
Showtime
8:30 PM
2:00 PM
2:00 PM
2:00 PM
Spectators

$15 each or
$45 a carload


$15 each


$15 each

$15 each
LABOR DAY FINALS RACE SCHEDULE

August 24, 2014

SERRA TAKES TOP BEAVER
HOLLAND and DOC SCORE WINS


The Top Beaver finals matched Bike Champ, Doctor Rick Bunting against Super Pro champ, Craig Serra. The Doc went red, -.013, and Craig took an easy win with a 5.001 on a 4.82.


The Doc got into the finals with a win over Mike Holland's Nova when he ran out with a 7.573 on a 7.59 at 88.93 MPH to the Doc's 5.00 on a 4.98 at 132.82.


Craig Serra's .001 reaction time in his dragster was to much for Kevin Little to stave off in his Willys. Craig took the Super Pro title with a 4.829 on a 4.82 at 139.36 MPH to Kev's 5.561 on a 5.54 at 122.95 MPH.


The finals of Footbrake matched Penny Harpster's Mustang against Mike Holland driving Gunner Miller's Nova. Mike took the win with a 7.601 on a 7.59 at 88.76 MPH to Penny's 6.817 on a 6.86 run out pass.


Mike showed the Foot Brakers that his street car can stop them all!!


The Bike finals matched Dr. Rick Bunting verses Brian Snyder. The Doc had the tree, .023 to .079, and took the stripe with a 5.045 on a 4.98 at
121.08 MPH to Brian's 6.464 on a 6.42 at 112.19 MPH.


Kaityln Krause took the JR title over Mike Dunkleberger via a red light.


The Lil Beaver finals was a family affair with Jeff Krushinskie in his Camaro facing big brother, Joe. It was over at the tree when Jeff went red (-.030) handing Joe the win. His dragster clocked a 5.124 on a 5.10 at 134.32 MPH.

BONUS SHOTS


In the semis of Super Pro, Tim Armstrong, right, had the tree, .004 to .019, over Craig Serra but took too much stripe running out with a 5.037 on a 5.04 at 136.15 MPH to Craig's 4.836 on a 4.82 at 141.08 MPH.


Kevin Little had his Willys hooking great in taking a semis victory over Hemi John Simbeck's Cuda.


Steve Retherford and Will Leitch both qualified for the SBRA Bracket Finals in the special run off for position.


Jeff Flick and April Derr also made the SBRA team in a special run off.


Joe Krushinskie in his dragster stopped Gentleman Jim's GTO in the semis of the 30 car field of Lil Beaver.


Mike stopped Dick Kuhlman in the semis with a Dead-On run.


Penny's .029 to John Moreno's .070 was the difference of the victory in the semis of Footbrake. John ran Dead-On to Penny's 6.866 on a 6.86. WOW!!


The agony of defeat ....The thrill of victory


Foot Brake hitter, Rich Powell, with his granddaughter.


Is the Beaver planning for a new eliminator in 2015?


Mike collects his "Ethel hug" for his big Footbrake win.


Car owner, Gunner Miller, joins the Holland's in the winners circle.


Super Stock world champ, Byron Worner, was on hand testing his new combination before his trip to the US Nationals this weekend.


Is Cheryl going to be in the drivers seat soon?


Ready for battle. "The Head verses The Doc"


OK, let's win this!


Rochelle with her dad in the lanes.


Charlie wishes Kevin good luck on his match up with Craig.


Billy Bair on his Street Hayabusa.


Sandy Miller won $174 in gas money for her new Hot Wheels Camaro.


Big Dan Swank in the traps.


Leon Peasley verses Jim Holland in Lil Beaver action.


Cliff Eicher in his Brian Pecht Rent-A-Ride S-10 dropped a close one to JK.


Danny Heffner's cool `59 Biscayne.


Kevin carries the wheels past the tree. Yes, the Beaver has hook.


"I see a great weekend coming Kemosabe"

WINNERS CIRCLE


Craig Serra and his family with the Krushinskie brothers in the Super Pro winners circle. Mom and Dad sure are proud!!


Michelle and Mike in the Footbrake winners circle.


"The Doc" with Brian and Joey, in the winners circle.


Kaityln Krause picked up the JR Dragster title in her Numidia Dragway sponsored ride. What a good little driver!!


Haley Trader with her coach, Denise Poorman, took her 3rd ATV title.


Anita Baker picked up her 4th Hot Rod Trophy title in her Cougar.


Joe and Jeff Krushinski took the Lil Beaver winner and runner up titles.
What a great racing family. These boys are winners.


August 22, 2014

STINEBACKER BEATS THE RAIN
WINS TOP STREET


The Top Street finals went to Kirk Steinbacher's Firebird over Frank Reeser's Monte Carlo with a 10.328 on a 10.32 at 129.42 MPH to Frank's run out 10.407 on a 10.42 at 119.74 MPH.


The Outlaw Street finals matched a pair of heavy hitters with Leon Peasley in his Camaro taking on points leader, Mike Criswell in his Nova. The race was over at the tree when Leon went red and Mike laid down a 10.330 on a 10.29 at 124.13 MPH to Leon's 10.196 on a 10.18 at 130.03 MPH.


Chad Beam took out Dave Snook in the Street Stick finals in his Camaro with a 13.355 on a 13.31 at 107.28 MPH to Snookie's 10.513 on a 10.50 at 121.52


The Street Auto finals came down to Leah Shaffer in her Dodge Ram verses Tyler Gardner's Trans Am. Leah prevailed in taking the win.


Sam Koonsman, far, took the Bike title over Brooke Zimmerman's Suzuki with a 13.002 on a 12.90 at 92.49 MPH to Brooke's 11.517 on a 11.60 at 124.77.


Time Reigle, near, took the Sport Compact title with a 17.523 on a 17.50 at 81.24 MPH over Todd McElreath's run out 16.623 on a 17.05 at 78.29 MPH.


Don Shissler in his Mull's Auto Sales Chrysler 300 took the True Street title over Court Sweigard's Scion. Don ran a 15.261 on a 15.25 at 92.48 MPH to Court's red lighting 16.798 on a 16.90 at 81.58 MPH.


The ATV title went to Wyatt Hoffman, near, over Michael Hurlbust onboard his Honda. Wyatt ran out the least with a 13.086 on a 13.15 at 45.32 MPH to Michael's 10.223 on a 10.30 at 63.82 MPH.

BONUS SHOTS


Kirk was on his game in his good and plenty Firebird.


Erica dropped a close one in the semi's of Sport Compact.


Bob Reeder lost out to Ty Gardner in the semis of Street Auto.


Go Haley Go!!


Wyatt Hoffman


Jeff Flick


It looked like the skies were going to open up at any minute. It never did rain.

WINNERS CIRCLE


Kirk Stinebacker, right, took the Top Street title in his Firebird.


Mike Criswell took the Outlaw Street victory in his Nova.


Chad Beam was all smiles after winning Street Stick in his Camaro.


Leah Shaffer put her big Dodge in the Street Auto winners circle.


Bike Champion, Sam Koonsman, is joined in the winner circle by Ethel.


Don Shissler picked up his 5th True Street title in his Chrysler.


Wyatt Hoffman came away with the ATV title once again.
GENERAL SAFETY RULES FOR...




PLUS SAME SAFETY RULES FOR...


All racers:
Long pants - shorts are prohibited
T-shirt with sleeves to the middle of the arm.
Tank tops are prohibited

13.99 / 100 MPH and faster:
Snell 2010 helmet

11.49 / 120 MPH and faster:
6 point roll bar
SFI approved fire jacket

Drive shaft loop is required;
11.49 and faster
If you run slicks
If you run DOT race tires



MOTORCYCLES:
Full face Snell 2010 helmet
Leather jacket, gloves, foot ware above the ankle.
Full leathers when running 10.99 and faster


ATV - JR ATV
Full face Snell 2010 helmet
Competition riding jacket (padded)
Gloves
Foot ware above the ankle for adults.
2014 Special Events


April 25-26, 2014

43rd Anniversary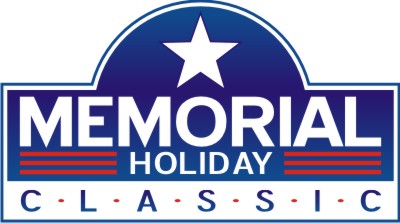 May 23-26, 2014!


June 20-21, 2014!

11th Annual Nostalgia Nationals - July 12-13, 2014!


16th Annual - "The GREAT Race!" - August 8, 2014


43rd Anniversary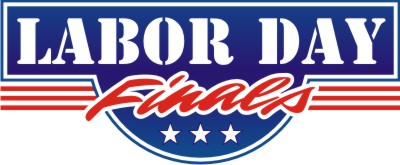 Points Championships are on the line, Aug 29 - Sept 1, 2014
The Mean Streets, another Beaver Original!
Saturday, September. 6, 2014


8th Annual Jalopy Showdown Drags - Sept. 27, 2014!



KIDS RULE at the 12th Annual Beaver Blast! Oct. 11-12, 2014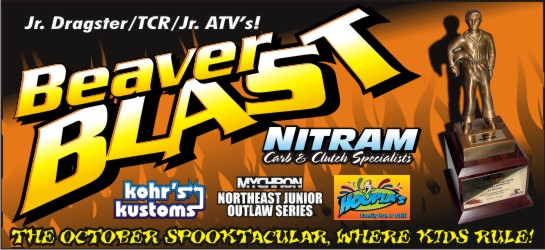 GPS: Zip Code
17812

Mailing: Beaver Springs Dragway
109 Race Track Lane
Beaver Springs, PA 17812
570-658-9601
Physical location:
Beaver Springs Dragway is located midway between Selinsgrove and Lewistown, PA on
US 522 at the town of Beaver Springs. At Beaver Springs you go North on PA 235 for 2 miles.

e-mail: beaverbob@beaversprings.com

http://www.rbrresults.com/rbradmin/
l