TRACK LOCATION
BEAVER SPRINGS
PENNSYLVANIA
17812
2 miles North
on PA 235 DIRECTIONS
PHONE
Track - Office:
570-658-9601
GPS Information
Type in:
Beaver Springs
Airport

To update or
add your Profile,
e-mail here!

IHRA SUNDAY
POINTS RACES





570-541-1372





Zoo Crew Forums
Bellwood, PA
814-742-8145


717-899-6606


800-527-3547



Dave Gramley


717-535-5409


570-742-4706






570-658-5202


JDWEB.CC
717-248-4135
Get your numbers for no charge!



717-899-6221



Graphic Design and
Full-Color Printing of
Decals and Flyers:


Maintained by
Beaver Bob


BB's '63 Galaxie 427




Updated: November 25, 2014 (The Beaver is now closed for the season)
(100 MPH Club final standings)
(Special Events Schedule posted - bottom of page)
(Beaver Blast results ...finally being re-posted)
(Vegas Fuel Friday Street Race Champions)

Latest standings: IHRA Final Overall Points
IHRA Final Series 2 Points
SBRA Final Points
Final Friday Points

Check photos: 2014 Photo Race Results
2nd Annual Ford FE Race & Reunion
July 12-13 Nostalgia Nationals
August 8 Flashback Friday
IHRA Bracket Finals
Jalopy Showdown
SBRA Bracket Finals

---
The Beaver is now closed for the season


Donna Marie and I want to thank all of our racers, crew member and fans for their support of the Beav. It was the best season in our 43 years of racing. We will now take a well deserved break to spend time with our family and friends over the holidays. We look foreword to seeing all of you at the awards banquet on January 31, 2015 at the Lewistown Family Moose Center in Lewistown.
15 tent
ANOTHER GREAT EVENT!!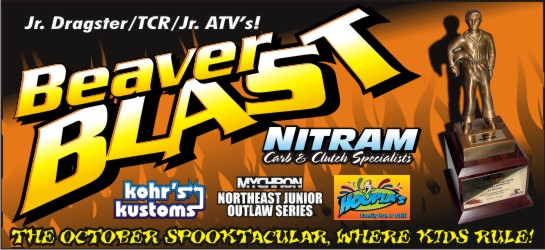 MEGAN CULBERT WINS JR IRON MAN
KEVIN KOHR TAKES TCR IRON MAN


The IHRA Iron Man Championship was on the line with 15-17 age group champion, Megan Culbert, facing Sammy Miller, the 13-14 age group champ.
In the "Ladies only" finals it was Megan taking the win with a 7.955 on a 7.90 at 80.21 MPH to Sammy's 7.987 on a 7.90 at 81.78 MPH.


Megan Culbert the 2014 Beaver Blast JR Dragster Champion


The TCR IHRA Iron Tree run off pitted Saturday Champion Collin Hoerr in his Silverado against Kyle Kohr in his Mopar. Collin had the tree, .002 to .070, but took too much stripe running out with a 10.899 on a 10.94 to Kyle's winning 10.057 on a 10.00 at 69.38 MPH.


Kyle Kohr the 2014 Beaver Blast TCR Champion


The overall ATV Championship had Sunday's Champ, Brandon Paone on his mini bike taking on Saturday champ Ronnie Webb. Ronnie was on his game taking the title with a 10.215 on a 10.00 at 48.33 MPH to Brandon's 14.354 on a 14.20 at 38.35 MPH.


Ronnie Webb JR the 2014 Beaver Blast ATV Champion.


The finals in the 15-17 age group came down to Megan Culbert in her "Girls Rock" entry verses Bailey Harp. Megan had the tree and took the stripe with a 7.961 on a 7.90 at 78.32 MPH to Bailey's 8.028 on a 8.01 at 79.46 MPH.


The Mind Bender" of Sammy Miller took the 13-14 age group title over a red lighting Landon Palmer. Sammy ran a right on 7.933 on her 7.93 dial at 82.56 mph to Landon's 8.001 on a 7.94 at 75.79 MPH.


Thomas Oates in his Royal Purple entry took the 10-12 age group over Jesse Marshell. Tom took the title with a dead on 8.900 on an 8.90 at 73.31 MPH to Jesse's run out 8.900 on an 8.93 at 71.40 M PH.


The finals in Sunday's TCR eliminator came down to Sarah Danner in her Dodge verses Kyle Kohr in his Plymouth. It was over at the tree when Sarah went red handing the win to Kyle who ran a 9.933 on a 10.00 at 70.67.


Anthony Capirose won the Lil Beaver title in his Punisher entry over Tre Brown. Anthony took the title with a 7.897 on a 7.90 after Tre went red.
BONUS SHOTS


At the Beaver, we always have time for some special request to make a pass.


Jamie Porter, near, stopped JP Lenker in round 4 of Lil Beaver.


Mike Dunkleberger


Michelle Bongiovanni verses Bailey Harp in the semi's of 15-17 age group.



SUNDAY'S WINNERS CIRCLE


Megan Culbert ended her JR Dragster career on a high note for sure winning her 15-17 age group and then going on to take the overall IHRA Iron Man.


Kyle Kohr won the IHRA Iron Man for the overall TCR Championship.


Ronnie Webb took the overall ATV title.


Bailey Harp was the runner up in the 15-17 age group.


Sammy Miller won the IHRA Iron Tree in the 13-14 age group.


Landon Palmer was runner up in Sunday's 13-14 age group.


Thomas Oats won the IHRA Iron Tree in the 10-12 age group.


Todd Kasper won the IHRA Iron Tree in the 8-9 age group.


Justin Hanwerk was the runner up in the 8-9 age group.


Sarah Danner took a runner up in Sunday's TCR race


Brandon Paone took the ATV title in Sunday's event.


Shannon Fordyce took a runner up in Sunday's ATV final.


Anthony Capirose took the Lil Beaver title in Sunday's action


Tre Brown was the runner up in Lil Beaver.

SATURDAY'S WINNERS CIRCLE


Skyler Stump was the Quick 32 Champion.


Vincent Romaniello took the All Run title.


Taylor Iacono was on fire taking a runner up in the Quick 32 and yet another runner up in the All Run race. She's a chip off the old block.


Collin Hoerr won the TCR title in his big Chevy.


Lauren Fordyce was the runner up in Saturday's TCR race.


Ronnie Webb was hot also winning the ATV title.


Cory Ream was the runner up in ATV. The kid can ride!


Ronnie Webb was recipient of the Best Appearing Car.


Kiersten Cocuzza won the Best Reaction Time award.


The Best Appearing Team went to Brady Kile.


2014 CHAMPIONS


Top Street - Chris Shaffer - 2702 points



Outlaw Street - Mike Criswell - 4607 points


Street Stick - Dave Snook - 4106 points


Street Automatic - Wyatt Hoffman - 5603 points


Sport Bike - Sam Koonsman - 4807 points


True Street - Bill Dippery (R) - 4707 points


Sport Compact - Matt Swanger - 5506 points


Bone Stock Truck - Leah Shaffer - 4510 points


ATV - Wyatt Hoffman - 3809 points


The Hoffman Dynasty
Wyatt wins Street Auto and ATV. Weston takes 2nd in ATV
GENERAL SAFETY RULES FOR...




PLUS SAME SAFETY RULES FOR...


All racers:
Long pants - shorts are prohibited
T-shirt with sleeves to the middle of the arm.
Tank tops are prohibited

13.99 / 100 MPH and faster:
Snell 2010 helmet

11.49 / 120 MPH and faster:
6 point roll bar
SFI approved fire jacket

Drive shaft loop is required;
11.49 and faster
If you run slicks
If you run DOT race tires



MOTORCYCLES:
Full face Snell 2010 helmet
Leather jacket, gloves, foot ware above the ankle.
Full leathers when running 10.99 and faster


ATV - JR ATV
Full face Snell 2010 helmet
Competition riding jacket (padded)
Gloves
Foot ware above the ankle for adults.
2015 Special Events


April 24-25, 2015

44th Anniversary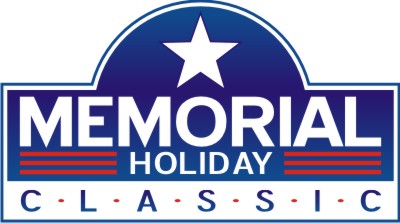 May 22-25, 2015!


June 12-14 2015!

12th Annual Nostalgia Nationals - July 10-12, 2015!


17th Annual - "The GREAT Race!" - August 7, 2015


44th Anniversary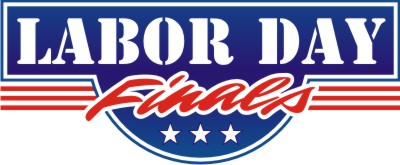 Points Championships are on the line, Sept. 4-7, 2015
The Mean Streets, another Beaver Original!
Sunday, September. 20, 2015


9th Annual Jalopy Showdown Drags - Sat. Sept. 26, 2015!



KIDS RULE at the 13th Annual Beaver Blast! Oct. 10-11, 2015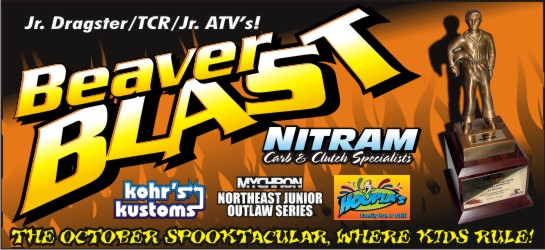 GPS: Zip Code
17812

Mailing: Beaver Springs Dragway
109 Race Track Lane
Beaver Springs, PA 17812
570-658-9601
Physical location:
Beaver Springs Dragway is located midway between Selinsgrove and Lewistown, PA on
US 522 at the town of Beaver Springs. At Beaver Springs you go North on PA 235 for 2 miles.

e-mail: beaverbob@beaversprings.com

http://www.rbrresults.com/rbradmin/
l