Bike champ, Daryl Walter, is out first in the Top Beaver finals but Top Champ, Heather Gutschmidt ran him down to take the win.
Heather took the Top ET title over current points leader Tim Armstrong with a perfect .000 light in the finals.
Husband Adam, sure is one happy guy today!
Birthday boy (50) Mike Harpster is out first in his Mustang and held on for the win over SBRA points leader George Fultz to take the Modified title.
Mike's sister-in-law, Denise Poorman and sister/Mike's wife, Penny are all happy for his big win.
Kevin Little joins Mike and Penny in the Modified winners circle with "Road Kill"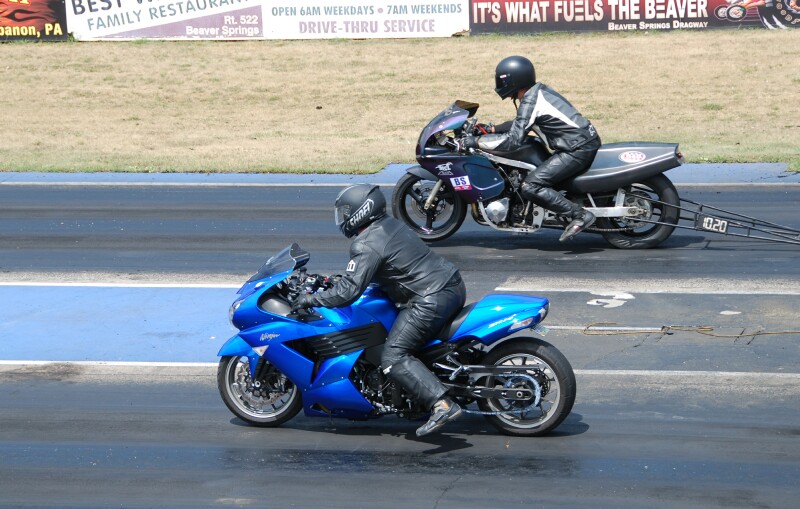 2015 Points Champion, Daryl Walter, top, made a great come back defeating Sam "Guido" Ficarra to take the Bike title. Daryl went on to take a runner up in Top Beaver.
Daryl is joined by the Beaver Bikers in the winners circle.
Anthony Feltman put his Monte Carlo into the Street winners circle with a final round victory over rookie, Mikey McCracken in his Camaro.
Anthony gets his just rewards on a hot 95 degree day. Nice win!!
Soloman Lohr in his charger won the Hot Rod Trophy title over Bob Witmer's `69 Camaro.
Solomon Lohr is joined in the Hot Rod winners circle with son, Isaiah who was runner up in ATV.
It was an all Ferster finals in JR Dragster with Liberti,bottom, taking to win over brother Kadin.
Liberti Ferster is joined by Brandon Flick and brother, Kadin.
The ATV title fell to Clay Leitzel, top, over Isaiah Lohr in a close one.