Test n Tune 11 to 3 Jensen's Late Night Drag Party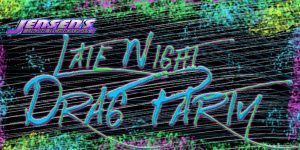 Our Jensen's Late Night Drag Party is back for 2019….TWICE!
Last year's party was such a success and awesome time we wanted to give you double the action this year!GATES OPEN: 5:00PM
TIME TRIALS: 6:30PM
ELIMINATIONS: 8:30PM
PARTY: ALL NIGHT!!
ENTRY: $35
SPECTATORS: $10 each or $45/Carload
CLASSES:
This year we have the 3 same great classes as last year PLUS 1 new class to accommodate the HUGE turnout of both street cars and all out race cars!
FRANTIC 15
Sponsored by Kocher's Resto & Chassis
-Street Legal (Licensed & Insured)
-Heads Up
-No Times
-1/8th Mile
-.500 Sportsman Tree
-Chip pull for pairings
-1 Bye Chip – 1st Round Bye ONLY
-WIN: $400
-R/U: $250
-Semi: $100
-Quarter: $50
-BYER'S TIRES BONUS MONEY (FRANTIC 15 ONLY):
-Best R/T in Elims: $100
-Last Small Tire Standing: $100
MODERN MUSCLE SHOOTOUT
Sponsored by Jensen's Performance Center
-Street Legal (Licensed & Insured)
-Bracket Format
-1/4 Mile
-.500 Sportsman Tree
-ANY vehicle with a LS, Ford Modular, or Modern Hemi
-MUST be a FACTORY BLOCK
-Win: $300
-R/U: $200
-Low Qualifier Bonus: $100
STREET BASH
Sponsored by Buyway Motors
-Street Legal (Licensed & Insured)
-Bracket Format
-1/4 Mile
-.500 Sportsman Tree
-ALL Street Cars that didn't qualify for the Frantic 15 OR Cars who lost in ROUND 1 of Frantic 15 can re-enter this race
-WIN: $250
-R/U: $150
OUTLAW DOOR CAR TOSS-UP
Sponsored by Bill Marks Auto Sales
-ANY Door Car Allowed
-32 Car Qualified Field
-Sportsman Ladder
-1/4 Mile
-.500 Sportsman Tree
-Coin Toss after qualifying to determine if the ENTIRE RACE will be HEADS UP or BRACKET format
-WIN: $250
-R/U: $150