TRACK LOCATION
BEAVER SPRINGS
PENNSYLVANIA
17812
2 miles North
on PA 235 DIRECTIONS
PHONE
Track - Office:
570-658-9601
GPS Information
Type in:
Beaver Springs
Airport

To update or
add your Profile,
e-mail here!

IHRA SUNDAY
POINTS RACES





570-541-1372





Zoo Crew Forums
Bellwood, PA
814-742-8145


717-899-6606


800-527-3547



Dave Gramley


717-535-5409


570-742-4706






570-658-5202


JDWEB.CC
717-248-4135
Get your numbers for no charge!



717-899-6221



Graphic Design and
Full-Color Printing of
Decals and Flyers:


Maintained by
Beaver Bob


BB's '63 Galaxie 427




Updated: July 23, 2014 ALL UP TO DATE - CHECK IT OUT!!!
(This weekend at the Beaver)
(Get your Pack the Track tickets)
(Flashback Weekend flyer)
(Beavers on the road)
(Sunday's results, Points, E-Club)
(Friday's results: Points, E-Club )


Latest standings: IHRA Overall Points
IHRA Series 2 Points
SBRA Points
Friday Points

Check photos: 2014 Photo Race Results
2nd Annual Ford FE Race & Reunion
July 12-13 Nostalgia Nationals


---


Friday - July 25th


Gates open at 5:00 Eliminations at 8:00


Saturday - July 26th


Gates open at 9:00 Test & Tune 10:00 to 4:00
Sunday - July 27th
SUPER PRO - FOOT BRAKE - BIKE - JR's
Plus all the regular eliminators: HRT, ATV, Lil Beav

1/8 mile racing in all classes - Come out and see the fast stuff

Gates Open at 9:00 Eliminations at 2:00

"We want to see you at the Beaver this weekend"
THIS WEEKEND'S RACE SCHEDULE
Friday
July 25
Saturday
July 26
Sunday
July 27
EVENT

Friday
Street Racing

Test & Tune
SBRA
Points Race #4
Gates open
4:00 PM
8:00 AM
9:00 AM
Time Trials
5:00 PM
10:00 AM
10:00 AM
Showtime
8:00 PM
2:00 PM
2:00 PM
Racers

$25 adults
$15 Kids

$40 Non-member
$30 BSD member
$10 JR/TCR/JR ATV

$30 - $50 IHRA
$20 JR/TCR

Spectators

$5 each
$15 carload

No Charge
Come watch for free

$10 each
THIS WEEKEND'S RACE SCHEDULE
GET YOUR PACK THE TRACK TICKETS
THIS WEEKEND
Starting this weekend and continuing through next weekend, we'll offer Pack the track tickets for our Flashback weekend Saturday event. All racers and fans can purchase a pack of 10 tickets for only $10.00.
The tickets are valued at $15.00 each ($150.00 total). Use them to bring new people, you friends, your family or your crew to the race.



KEYSTONE NATIONALS TICKET RACE
Sponsored by: Brian's Trailer Sales


On the Pack the Track race, All eliminator winners will receive a pair of tickets to the Keystone Nationals at Maple Grove Raceway on October 2-5, 2014.


Brian Pecht and Michele have been the Keystone Ticket Race sponsors since it's inception, 4 years ago. Check with them for all your trailer needs.


717-899-6221
Yes, I know it's called the NHRA Nationals,
but it'll always be the Keystones to us.
FLASHBACK FRIDAY
NOSTALGIA WEEKEND!
PACK THE TRACK SATURDAY!!


(CLICK FLYER TO VIEW LARGER)
BEAVERS ON THE ROAD
Layne Kahley makes good showing


Second year JR Dragster pilot, Layne Kahley, made the trek to MIR last weekend and came away with a runner up in the 10-11 year old age group. Layne waded through a field of 40 cars to face Beaver Blast regular, Matt Snell, in the finals. Layne has shown big improvements this season and is a threat to take a title at every event.

July 20, 2014

REBER WINS TOP BEAVER
Drayer, Charcalla, Weaver take IHRA titles


Top ET finals matched Ron Reber, far, against Jeff Duck. Ron had a better light, .011 to .028, and took the title with a 7.708 on a 7.68 at 172.31 MPH to Jeff's 7.334 on s 7.31 at 184.38 MPH.


The Modified finals matched Jason Weaver's Camaro against Lou Drayer's Chevette. Lou had the tree, .015 to .063, and took the win with a 9.374 on a 9.34 at 140.75 MPH to Jason's right on 9.170 on a 9.17 at 143.51 M PH.


The Bike finals matched Dave Carpenter, near, against Mike Charcalla's `Busa. Mike had the better light and took the title with a 9.012 on a 8.98 at 136.88 PH to Dave's 10.139 on a 10.09 at 121.39 MPH.


The Street finals was an all MOPAR event with Dave Weaver's Charger taking the title over Steve Mertz's MOPAR powered `32 Ford. Dave took the title with a 12.529 on a 12.49 at 102.24 to Steve's 12.409 on a 12.41 at 103.79 MPH.


The JR finals came down to Mike Dunkleberger, top, verses Liberti Ferster. Liberiti had the tree, .061 to .135, but too too much stripe and ran out with a 8.887 on a 8.90 at 72.34 MPH to Mike's winning 8.981 on a 8.98.


Ronnie Suhr's is out front and taking the title in the Lil Beaver over Leon Peasley's Camaro. Ronnie won with a 10.566 on a 10.55 at 123.06 MPH to Leon's 10.392 on a 10.34 at 114.67 MPH.


Brandon Flick took the ATV title over Charly Barchefski.

BONUS SHOTS


Hemi John Simbeck lost to Jeff Duck's dragster in the semis of Top ET.


Jilly Kline was on a roll before falling to Jason Weaver.


Lou Drayer was on his game today, winning the Modified title.


Mike Harpster's Mustang bowed out in round 4 to Kevin Whitmer.


Jason almost pulled off a win, but Lou had his number today.


points leader, Steve Lenig, dropped a close one to Reber in the semis.


Nikki Alberts in her Dart fell to Steve Mertz in the semis of Street.


Dale Rhoads in his Mustang fell to Weaver in the semis.


Big Dan Swank. One of our favorites.


Dave Novinger's Vega was hooking all day long.


Rusty Miller


Will Leitch and his 440 Dart


Danny Heffner in "The Crow"


"The Reverend" Tom Youtzy in his supercharged small block Falcon.


Jason Weaver and Samantha Dubbs take a shot at the tree in qualifying.


"Da Carp" and Daryl off the line.


Lenny Yocum verses Drew Charcalla


Number 1 and Number 2 in qualifying: Ken Kauffman and Mike Charcalla.


Isaiah Lohr made his JR Dragster début' in fine fashion winning round 1.


Hang on Lenny!!


Zippo minus a few body parts after a air bottle explosion.


Charly got by Haley in the semis of ATV.


Charly Barchefski took a runner up in ATV on her very first race!!

WINNERS CIRCLE


Ron Reber made his visit to the Beaver pay off winning both Top ET and Top Beaver in his bib block Chevy Dragster.


Dave Weaver put his Charge into the Street Eliminator winners circle.


Dave Fetter took the Hot Rod Trophy title in his classic `63 Dodge.


Mike Dunkleberger defeated all challengers in winning JR Dragster.


Ronnie Suhr's "Nightmare" Chevelle took the Lil Beaver title.


July 18, 2014

JIM SHEAFFER TAKES TOP STREET


It was Sheaffer verses Shaffer finals in Top Street with Jim Sheaffer's Vega taking the win over Chris Shaffer's SS Furious. Jimmer ran a 9.984 on a 9.98
at 134.97 MPH to Chris's run out 10.655 on a 10.66 at 121.78 MPH.


Points leader Mike Criswell in his Nova fell in the finals of Outlaw Street to Moses Spaid's 351 Pinto. Moses cut a great .005 light and ran a 12.513 on a 12.50 at 99.53 MPH to Mike's .039 R/T and 10.259 on a 10.22 at 127.13 MPH.


It look like Dave Snook's winning streak was going to end when Mike Boston cut a .019 light to Dave's .142. But Mike missed a shift handing Dave his 5th straight Street Stick title.


The Chevy verses Ford Street Auto battle came down to Wyatt Hoffman in his Nova and Denny Seigler's Fairmont. Denny had the tree and took the win with a 11.104 on a 11.06 at 107.73 MPH to Wyatt's 14.286 on a 14.25 at 92.87 MPH.


"The Cruiser" is out first and took the Sport Bike title over Shane Tressler's Triumph with a 13.033 on a 13.04 to Shane's 11.233 on a 11.24.


The finals of True Street came down to Donald Shissler's Chrysler 300 verses Bill Dippery's Shelby GT-500. Shizz had the tree and took the win with a 15.174 on a 15.15 at 84.76 MPH to Bill's missed shift 12.436 on a 11.71 at 111.64.


The Bone Stock Truck finals was an all Ram affair with Queen Leah Shaffer taking the title over Brandon Garlow's "Big Red Dodge". Leah won with a 17.803 on a 17.75 to Brandon's 12.766 on a 12.50 at 103.86 MPH.


The finals of Sport Compact matched Tim Reigle's Civic against Troy Struble's Cobalt. Tim took the win with a 17.575 on a 17.30 to Troy's 16.457 on a 16.01.


The ATV title went to Wyatt Hoffman, near, over Damien Whitehurst.
Wyatt ran a 13.733 on a 13.00 to Damien's 14.563 on a 10.15.

BONUS SHOTS


Announcer - Promoter dream team - Zippo and Beaver Bob


After dropping out in Top Street, Bud Buck came back out and ran a career best 8.91 ET in his totally street legal Chevelle.


SS Furious at speed


Bill Marks was number 1 qualified in Top Street with a 8.95 blast.


Curt Steinbacher's low 10 second Firebird in one sharp ride.


Paul Scholl ran out big time giving Bill Dippery's GT-500 the first round win.


Chanel Kantz in her MR-2 drew a red light against Wyatt Hoffman's Nova in the semis of Street Auto. With the semi's showing she moved into the points lead.


Donald Shissler was the man in True Street.


Justin Kessler couldn't break his girlfriend's Hyundai Veloster.


Sport Bike star, Justin Kessler, will be on hiatus for a while after taking a welding job that'll land him in North Dakota.

WINNERS CIRCLE


Dave Snook has dominated Street Stick winning his 5th title in a row!!


Jed Seigler's dad, Denny, continued their winning way taking the Street Auto title in his Fairmont over Wyatt Hoffman's Nova.


Moses Spade put his Pinto into the Outlaw Street winners circle.


Sam "The Cruiser" Koonsman picked up his 3rd Sport Bike title.


Donal Shissler took the True Street win in his Chrysler 300.


The Sport Compact title fell to Tim Regal in his Civic over Troy Struble.


Wyatt Hoffman almost pulled off a double win taking the ATV title
and a runner up in Street Automatic.
GENERAL SAFETY RULES FOR...




PLUS SAME SAFETY RULES FOR...


All racers:
Long pants - shorts are prohibited
T-shirt with sleeves to the middle of the arm.
Tank tops are prohibited

13.99 / 100 MPH and faster:
Snell 2010 helmet

11.49 / 120 MPH and faster:
6 point roll bar
SFI approved fire jacket

Drive shaft loop is required;
11.49 and faster
If you run slicks
If you run DOT race tires



MOTORCYCLES:
Full face Snell 2010 helmet
Leather jacket, gloves, foot ware above the ankle.
Full leathers when running 10.99 and faster


ATV - JR ATV
Full face Snell 2010 helmet
Competition riding jacket (padded)
Gloves
Foot ware above the ankle for adults.
2014 Special Events


April 25-26, 2014

43rd Anniversary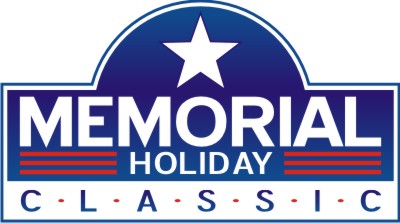 May 23-26, 2014!


June 20-21, 2014!

11th Annual Nostalgia Nationals - July 12-13, 2014!


16th Annual - "The GREAT Race!" - August 8, 2014


43rd Anniversary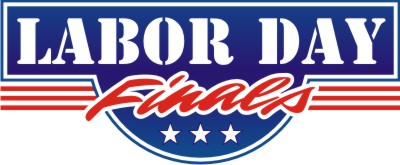 Points Championships are on the line, Aug 29 - Sept 1, 2014
The Mean Streets, another Beaver Original!
Saturday, September. 6, 2014


8th Annual Jalopy Showdown Drags - Sept. 27, 2014!



KIDS RULE at the 12th Annual Beaver Blast! Oct. 11-12, 2014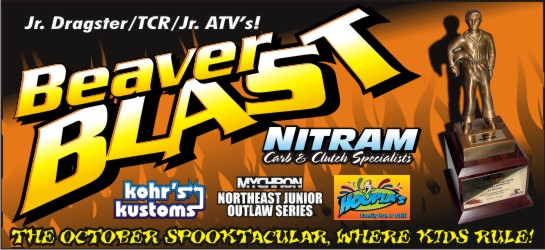 GPS: Zip Code
17812

Mailing: Beaver Springs Dragway
109 Race Track Lane
Beaver Springs, PA 17812
570-658-9601
Physical location:
Beaver Springs Dragway is located midway between Selinsgrove and Lewistown, PA on
US 522 at the town of Beaver Springs. At Beaver Springs you go North on PA 235 for 2 miles.

e-mail: beaverbob@beaversprings.com

http://www.rbrresults.com/rbradmin/
l