Labor Day Classic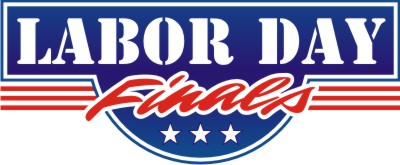 Aug. 30-31  Sept. 1, 2014

BADMAN IS GRAND BEAVER

WEAVER, HOLLAND: TOP BEAVERS


The Grand Beaver finals matched the Top Beaver champions from Saturday, Sunday and Monday to run for a new Dell Lap Top sponsored by Jason Derr of JD Web. Justin Badman, near, had a .013 to .015 light over Jason Weaver and took the win with a 8.076 on an 8.07 at 163.54 MPH to Jason's 7.793 on a 7.80 at 166.60 MPH. Talk about close!!


Justin Badman was the Grand Beaver of Labor Day.


The Top Beaver finals matched Justin Badman's dragster against Dave Weaver's Charger. Justin had the tree and took the stripe with both drivers running right on their dial.


Justin's mom, Sherrie, cheers his Top Beaver win.


The Bike finals had ken Kauffman, far, running Sam Koonsman's Ninja. Ken had the tree and took the win with a 8.893 on a 8.86 at 141.59 MPH to Sam's 11.651 on a 11.67 at 109.91 MPH.


It was an all MOPAR finals in Street with two Bracket Finals champions facing each other. Dave Weaver's Charger prevailed over Bob Klock's Challenger with a dead on 12.630 at 104.88 MPH to Bob's 12.033 on a 12.02 at 104.05.


The Hot Rod Trophy final came down to Mikey McCracken in his Camaro verses Troy Stahl's Monte Carlo. Troy took the win when Mikey went red as Tom Stahl cheers his brothers win.


The JR finals matched Sarah Cisney, top, against Mike Dunkleberger. Sarah laid a perfect .000 light on Mike and took the title with a 8.051 on a 8.00 at 79.67 MPH to Mike's 9.701 on a 9.57 at 63.56 MPH. Congrats to the winners.


The finals of Lil Beaver was a carbon copy of Sunday's Lil Beaver with Joey Shirey's dragster taking the win again over Jeff Flick's Ford Altered.
BONUS SHOTS


Dave Weaver took this first round match up in Top Beaver over ken Kauffman's Ninja when Ken went red and wasted a perfect 8.860 on an 8.86 dial at 134.14 MPH to Dave's winning 12.613 on a 12.62 at 105.27 MPH.


Steve Lenig came with in 1 point of taking the Modified title over Jason Weaver. A final round loss to Big Dan Swank was the difference today.


NHRA Divisional champion, Mark Petitdemange, was running with us all weekend taking the Pro Stick title on Sunday in his SS/DM Camaro.


Some of the Beaver's great JR Dragster and ATV Kids.
WINNERS CIRCLE


Jason Weaver with his dad, Brian, had a good weekend coming from 4th
to win the Modified crown and finished 3rd in Top ET.


Big Dan Swank took the Modified title in his "Smokin' " Malibu.


Ken Kauffman took the Bike title over a big field on Monday.


The crown is passed on to the champ.
With the win, Ken qualified for the Bracket finals.


Dave Weaver went back to back winning Street both Sunday and Monday.
Plus he was a runner up in Top Beaver on Sunday and Monday.


Sarah Cisney picked up her 4th JR title of the season.


USMC Sgt. Joey Shirey took the Lil Beaver title driving Scott Tate's dragster.


Troy Stahl posted his first ever eliminator win in Hot Rod Trophy.
Troy is flanked by his racing brothers, Tom and Todd.


The ATV title went to Ronnie Suhr on "Mud Puddle's" quad.


The 2014 Bike Champion, Andrew Charcalla, is congratulated by Series sponsor, Lenny Yocum of Yocum Trucking. Andrew also captured the Yocum Memorial Chase with in a race title.


Liberti Ferster finished out the season driving Caitlyn Holland dragster and managed to win the JR Dragster title. Dad, Chad, give Lib a big kiss.
FULL LABOR DAY RESULTS TO BE POSTED