Flashback Friday & Jensen's Late Night Drag Party
COMING NEXT FRIDAY!!!
It's the 17th annual Flashback Friday. Join us Friday night as we have our weekly Friday cars and Bikes along with 3 Nostalgia Classes, WFO & Insane 8 as they race into the night. Unfortunately there will be No Adult ATV, JR ATV, or TCR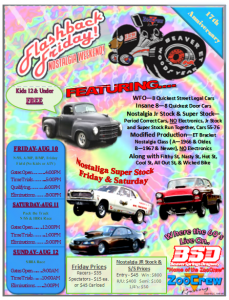 In three weeks on August 25th, join us at the "Beav" as we host Jensen's Late Night Drag Party. Join us as we witness Modern Muscle cars to 2,000 + Horse Power Street cars streak down the 1320'.